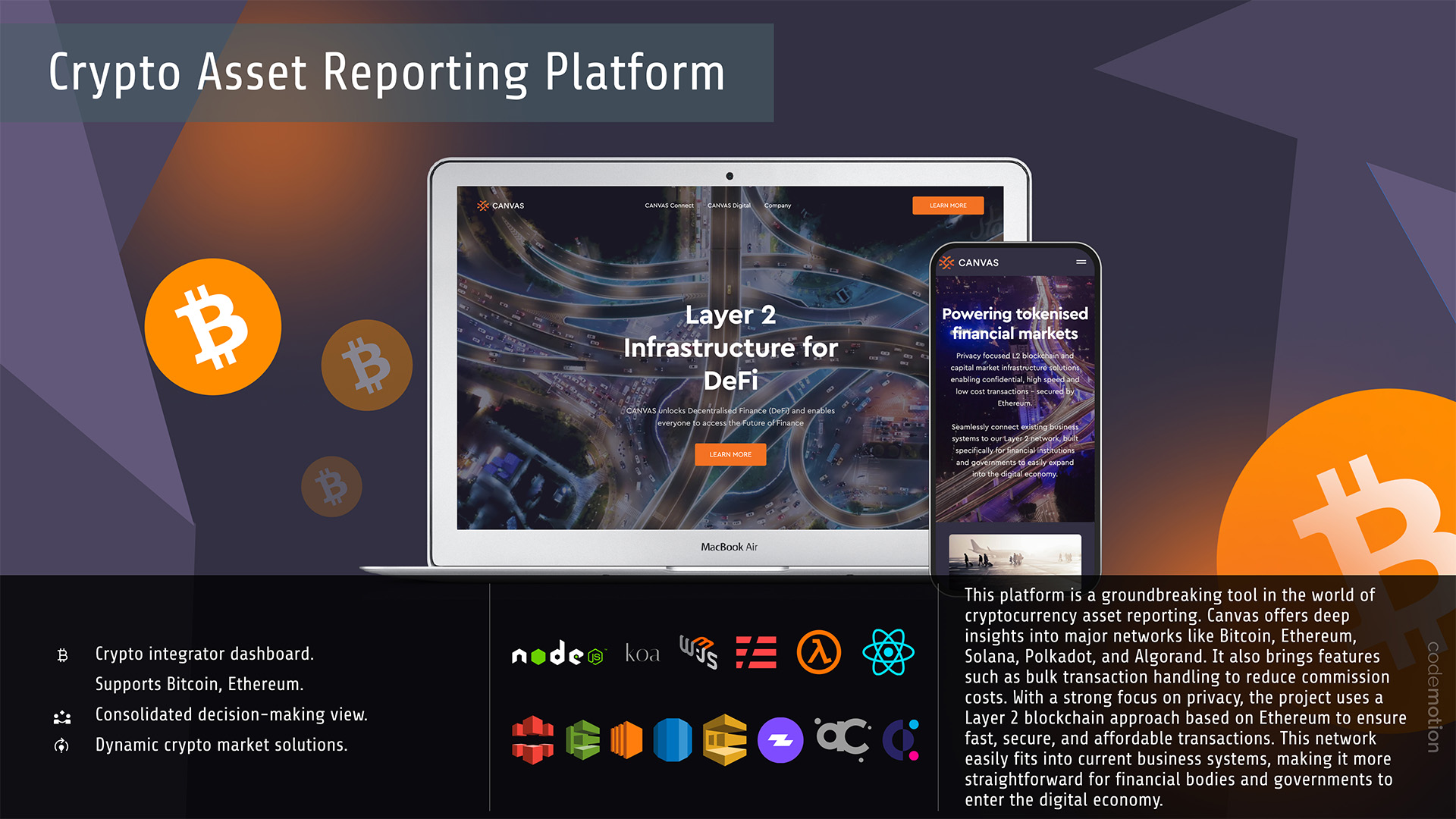 Project Overview:
Joining forces with our esteemed client, we ventured into the forefront of Blockchain, DeFi, and FinTech, aiming to shape the future of cryptocurrency asset reporting. The result of our mutual endeavors is Canvas – a state-of-the-art platform, a beacon in the vast universe of crypto insights.
Canvas Features:
Extensive Cryptocurrency Insights: Providing comprehensive data on eminent networks such as Bitcoin, Ethereum, Solana, Polkadot, and Algorand.
Bulk Transaction Management: An innovative efficiency approach that curtails commission expenses by handling mass transactions seamlessly.
Privacy First: With the implementation of Layer 2 blockchain solutions anchored by Ethereum, we guarantee rapid, cost-effective, and above all, secure transactions.
Integration & Adaptability:
Canvas's Layer 2 network isn't just a stand-alone marvel. It's meticulously crafted to intertwine seamlessly with pre-existing business systems. This thoughtful design enables a vast array of organizations, from financial stalwarts to governing bodies, to effortlessly integrate and harness the boundless potential of the digital economy.
Technical Foundation & Challenges:
Drawing upon the immense capabilities of Node.js, React.js, and AWS, our team displayed commendable resilience and adaptability. We sailed through the project's inherent complexities, cementing our reputation as experts capable of translating ambitious visions into tangible, efficient, and innovative solutions.
Conclusion:
This project stands as a testament to our unwavering commitment to excellence, our ability to navigate intricate technological landscapes, and our passion for creating transformative solutions in the ever-evolving world of FinTech.