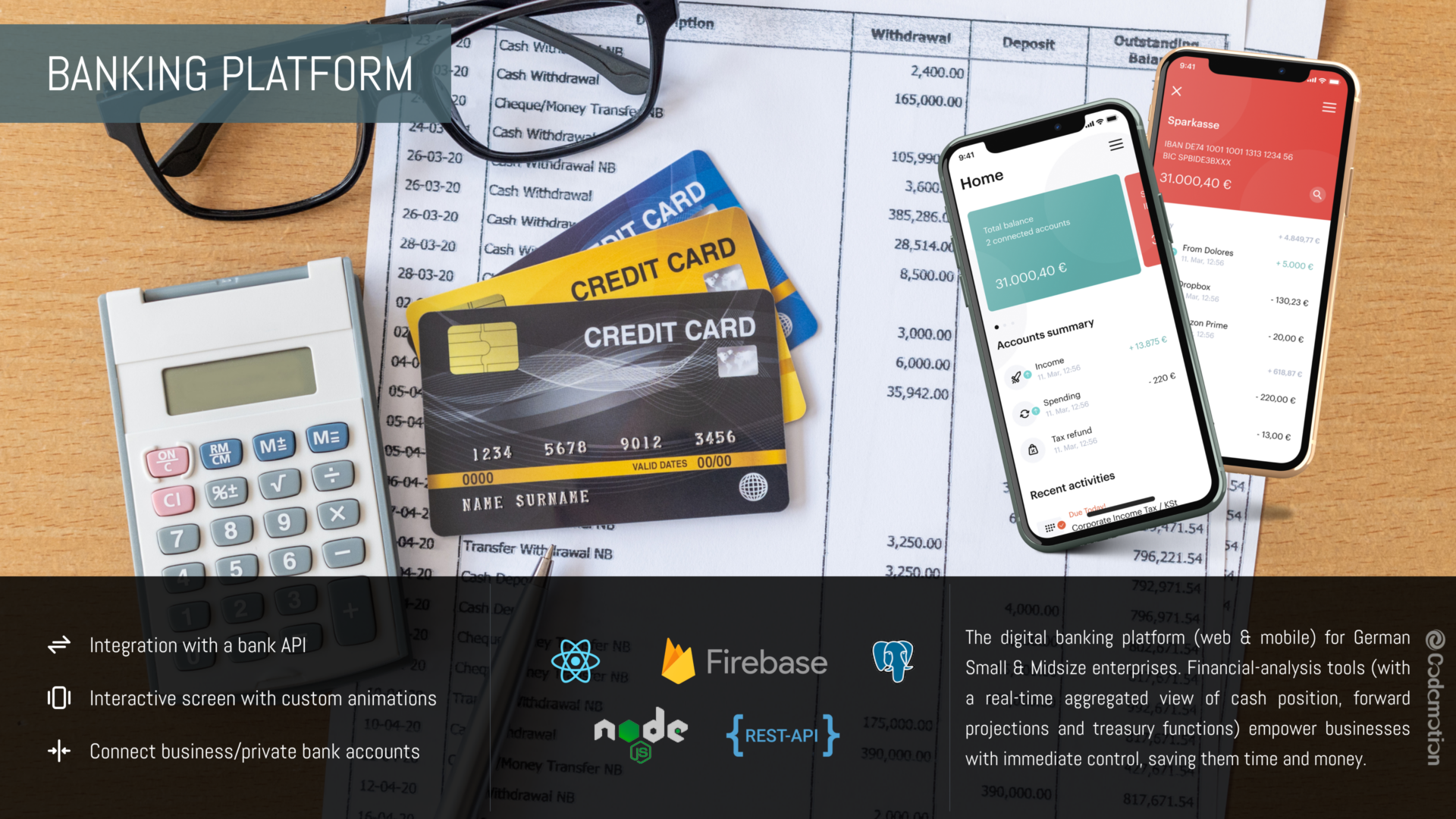 Introduction:
In the midst of Germany's bustling economic landscape, we embarked on an exhilarating project journey. Our mission? To architect a comprehensive digital banking platform, meticulously crafted for the nuanced needs of Germany's small to midsize enterprises (SMEs).
Platform Overview:
Multi-Device Accessibility: Whether on the move or at the desk, businesses can seamlessly access the platform across web and mobile interfaces.

Financial Analysis at Fingertips: The heart of the platform lies in its powerful financial-analysis toolkit. It equips businesses with:

Real-Time Insights: Offering aggregated views of cash positions, enabling immediate and informed decision-making.
Forward Projections: Empowering businesses to strategize for the future with predictive analytics.
Treasury Mastery: Businesses can wield the platform's treasury functionalities to optimize financial operations.
Technical Mastery:
Tech Stack: Harnessing a myriad of cutting-edge technologies – React Native, Firebase, Node.js, and PostgreSQL – our team was well-poised to ensure the platform's robustness and scalability.

Integrations & APIs: The project spotlighted our prowess in integrating Banks API and leveraging REST API, ensuring seamless interactions and data exchanges.
Challenges & Triumphs:
No endeavor is without its hurdles, and this project was no exception. The intricate layers of development and integration presented their share of complexities. Yet, with professionalism and unwavering commitment, our adept development team triumphed, overcoming each challenge with finesse.
In Conclusion:
This venture stands as a testament to our unwavering commitment to excellence. As we sculpted a platform rich in functionality and user-centricity, we reaffirmed our reputation for navigating the intricate terrains of advanced technological realms with expertise and agility. SMEs in Germany now have a tool that doesn't just aid but empowers their financial endeavors.