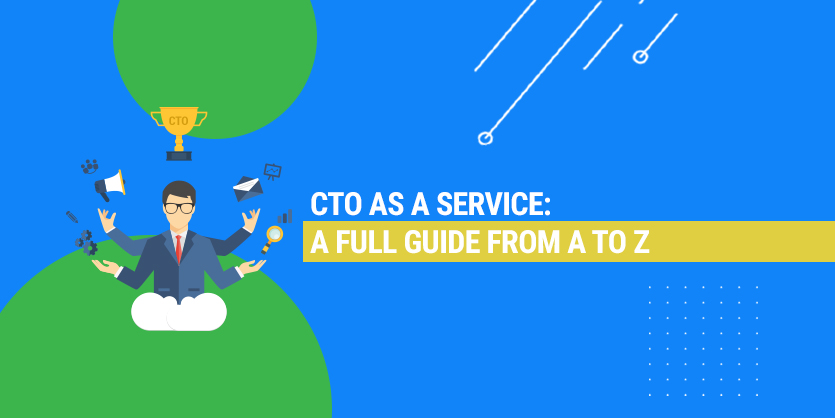 Who is a chief technology officer and why do you need this person to be in your team? Once you start a new business, you have some specific goals that you want to come to. You have a vision of what you want to achieve. The very person that is a CTO will make a choice of what kind of technology to use to reach all the goals you have.
What do we mean by saying CTO as a service for startups? When you are at the beginning of your way, you will probably have to change the technology and be very flexible to take a specific market niche. CTO consulting aims at delivering the best project management solutions for new organizations and companies with a great history.
What does a CTO do? A key role of this person in any company is understanding what can push and drive any business, how to find and determine the best technologies to reach all the goals in the shortest time. A competitive advantage is what you get with a new person in your company. You will see it in a new customer experience, new market channels or new ways to scale the app and so on.
How our CTO as a service can benefit you
If we start cooperation, you will get a few super benefits from the CTO customer service:
A step-by-step plan of actions from the idea to the required result;
Assistance with the use and management of technology use;
Efficient product and project management;
Efficient productivity and a good pace of work;
Fast decision making and a great decrease in risks;
A few variants of strategies for emergency cases.
In short, we offer maximum efficiency with minimal expenses. We have proven experience in implementing the best practices and knowledge of the latest technologies to reach goals. We offer an outsource service that will provide you with well-planned activities, fixed deadlines and reaching all the required results.
One of the roles of the chief technical officer is decision making. It's highly important to determine and evaluate all the possible risks that you may face after making a specific decision. The next step is planning work that comprises the search of the right people into a team and the choice of the technologies to be used. We determine the final goals, the milestones, and the strategy.
Will you have any control over the process and budgeting? Yes, you will. You get all the information that you need at any point of the process. You have a detailed plan where you can add something or that you can present to your investors. A great advantage of hiring an experienced CTO is enthusiasm and high motivation.
Long-lasting cooperation with a CTO will lead to a high productivity and low expenses. You will get a firm roadmap to stick to with the use of the latest technologies. You get the product ready on time or even earlier than expected and you take a specific market niche. Your company gets a guarantee that you will get a qualified expert for a long-term work.
When is the right time to hire a new CTO?
Any business requires a technology officer to start a new project or improve the existing one. If you have a new organization and you want to find out the most efficient ways to reach your goals, it's high time to hire a professional CTO. If you see that something goes wrong with the app development or you need to make the workflow more efficient, it's the best time to hire a CTO.
Let's start with an idea. If you have it and you want to find out if the customers will love it, we're here to help you. We'll show you the roadmap to the final goal. You get the release of the project earlier and you jump into a new market niche in a short time. You get new solutions the will be time and cost efficient. It's always the right time to find a qualified CTO if you have costs for hiring a new person.